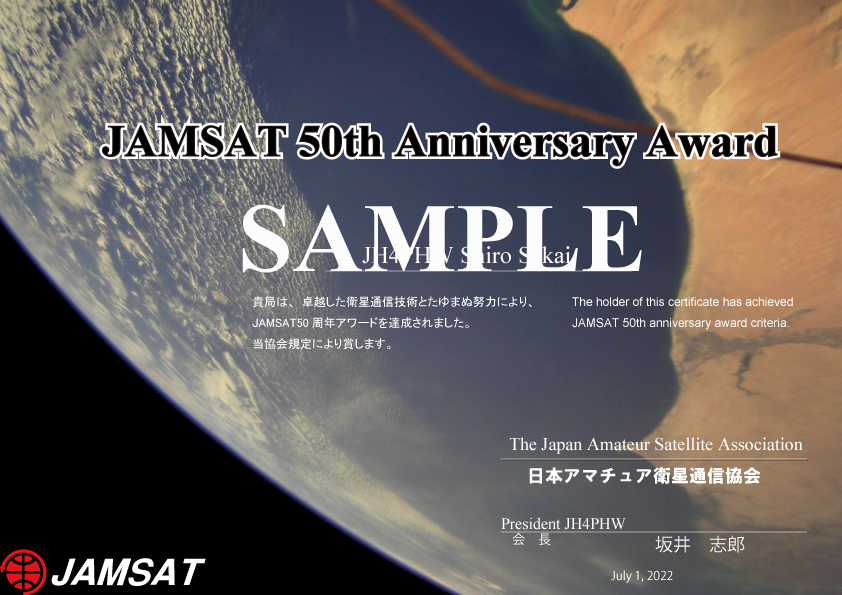 May 30, 2022
JAMSAT is very happy to announce to issue JAMSAT 50th Anniversary award as following
【Award Rule】
1.Objectives:
Publish an award to celebrate JAMSAT 50th anniversary.
2.Name:
Award name is "JAMSAT 50th Anniversary Award"
3.Qualifying proof of credits :
a. Earn over 50 points
each QSO with
non JAMSAT member 1 point
JAMSAT member 2 points
JAMSAT board member 5 points JA1CUF, JA1DAO, JA1OGZ, JG1KOE, JO1LDY, JA3GEP, JA3NAS, JH3BUM, JH4DHX, JH4PHW, JA0FKM, VK9QO (as 2022 June)
JAMSAT HQ station 10 points
b. Count once with the same stations via a satellite.
c. Contact must be the same mode. cross mode QSO can not be counted.
d. Issue once
e. QSL can be counted if you have traditional paper QSLs. In addition to it, eQSL, loTW can be accepted if satellite name is on QSL.
f. QSO must be under valid license.
4. QSO Date:
Between January 1 and December 31, 2022 (Japan time)
5. Application format:
No predefined format. Must include callsign, QSO date/time, Satellite name, uplink frequency, QSL method(paper, eQSL, loTW etc). The proof of QSLs possession by other radio hams are not required, we accept self-declaration.
if you need sample, please use this template.
6. This award is free and provides in jpeg format
7. Application send to jh4phw (at mark) jamsat.or.jp
8. Application must be submitted between July 1, 2022 and June 30, 2023 (Japan time).
JAMSAT member, opt in
JA1CPA, JA1NWR, JF1PTU, JH1MKU, JE2PHJ, JH2DFJ, JH4XSY, JR6RMK, JA7FKF