| | |
| --- | --- |
| SCOPE Update | |
JAMSAT The Japan AMSAT Association

---

Phase 3D take a picture of clean room ceiling at Orbital !

Flight models of Rudak-U and SCOPE onboard Phase 3D take a picture by commands sent via RF link for the first time.
Oct. 20, 1998 Germantown, Maryland

---
SCOPE Digital Color Camera on board Phase 3D spacecraft today took a picture for the first time by the series of commands sent from a ground station via RF link and RUDAK-U digital communication module. Report from Bdale N3EUA of P3D RUDAK-U team follows.

---
Please find attached pictures (1) (2) taken by each SCOPE camera via RUDAK. The satellite was today in the clean room all day, undergoing final preparations for movement into the vacuum chamber. We currently hope that it will move to the chamber tomorrow to begin the next phase of testing. The pictures are fairly boring, they are of the wall and ceiling in the clean room, which has light fixtures in an otherwise white surface. The exposures were 4 seconds, and the ceiling was about 34 feet high.


(1) Narrow Angle Camera (original

BMP

)

(2) Wide Angle Camera (original

BMP

)

Captured in Ultra Low Resolution "Quick" mode (160x120)

<SCOPE-CANbus-RUDAK-U>-<RF Link>-Command Station

While TV test team worked today to attach thermocouples to monitor the temperatures in the chamber, we worked to verify that things are all working ok.

As you can see from the third attached picture (below), we are successfully interacting with RUDAK from a suite in the hotel across the highway from the Orbital facility. We took some pictures when many of the other people working on the T/V process stopped in to see us on their way to bed this evening... this is one of the better ones of the group.

We are pleased and excited to have the flight cameras proven working with the flight RUDAK!

(Note: This is NOT a SCOPE captured image)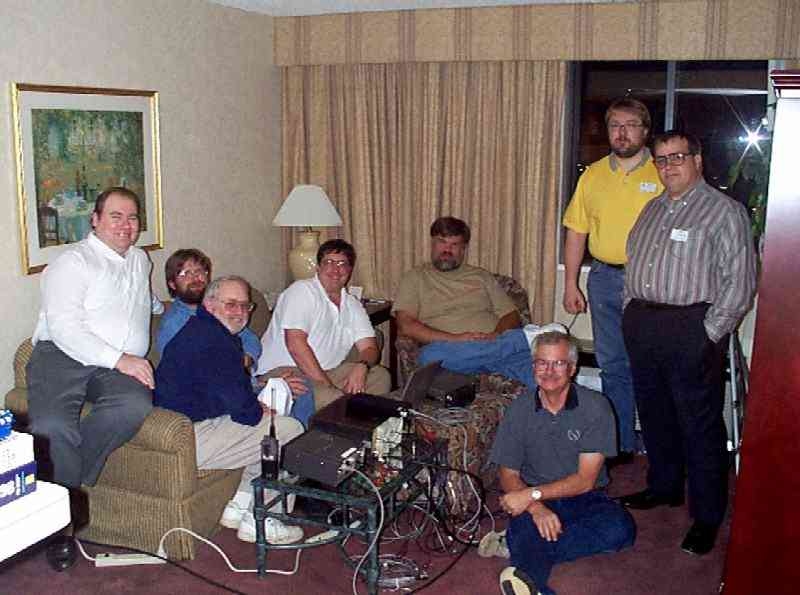 ---
Tnx Bdale N3EUA, RUDAK Team and TV test Team
de JAMSAT SCOPE Team

---
(C) 1998 JAMSAT